Jurassic World: Dominion Dominates Fandom Wikis - The Loop
Play Sound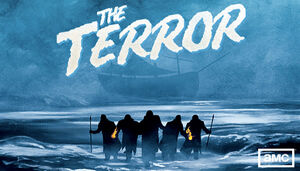 The Terror is a horror drama anthology series broadcast on AMC. It has been described as "American Horror Story but with a focus on actual events in history."[1] The first season of The Terror is rated TV-MA for its thematic elements,[2] while the premiere episode of the second season, The Terror: Infamy, is rated TV-14, with indicators for coarse language and violence.[3]
Seasons
[
]
The story of the first season of The Terror is based on the real-life events of Captain John Franklin and his ill-fated 1840s voyage to explore the Northwest Passage, a journey from which he and his crew would never return.[4]
The series is based on a novel by Dan Simmons published in 2007 by the same name, which formed the basis of the events of the first season.[5]
Having premiered its first season on March 25, 2018 on AMC,[4] it is slated to premiere a second season under the title The Terror: Infamy on August 12, 2019, at 9 P.M. eastern, 8 P.M. central.[6] It aired its finale, "Into the Afterlife," on October 14, 2019.
The second season changes focus, presenting a fictionalized version of the internment of Japanese Americans during World War II. This event is presented as the focus an episodic television series for the first time ever and features an almost entirely Asian cast.[7]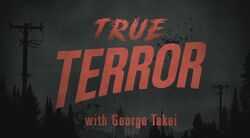 AMC has also released a series of shorts via YouTube titled True Terror With George Takei. These shorts feature The Terror: Infamy actor and consultant George Takei narrating accounts of real-life terrors.
In January 2020, AMC announced that it was mulling the possibility of a third season of the series. If renewed, the series would, as before, explore an entirely new concept as the basis for an entire season of the program.[8]
Production
[
]
The Terror was not originally envisioned as a multi-season show, its original season being a closed plot which wrapped up with the final episode. The series proved a great ratings success for AMC, prompting the renewal of the series and the creation of an original concept for the second season.[1]
In the U.S., The Terror is sometimes rated TV-14 and sometimes TV-MA depending on the episode in question.
Reception
[
]
In October 2019, Entertainment Weekly named the series as a must-watch action-packed show, stating that they were keeping their fingers crossed for a third season of the program.[9]
External links
[
]
Notes and references
[
]